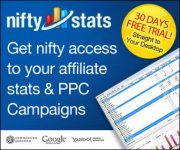 Nifty Stats has announced that they are currently finalizing a German language version of their stats tracking tool. Currently they plan to make the translations available in 1-2 weeks.
Nifty Stats:
We hope, that it will bring you more comfort while browsing your stats of incomes and expenses!
Nifty Stats is currently available in English and German language.
Would you like to have Nifty Stats localized in more languages, then let us know. We will select the most preferred language.
Sadly the price for the tool is a bit steep ($200 per year), but it may be worth it to check on your income and to be able to maneuver it the best way possible.