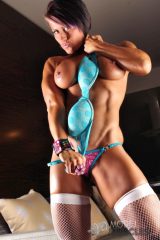 LotzaDollars has announced the launch of a new site featuring muscle packed chicks: Model Muscles
Team Lotza:

Model Muscles is the new premier site for sizzling bodybuilder babes! ModelMusles.com is the gigantic replacement for the now outdated SheMuscleGym.

As a result of this upgrade we'll begin tapering off SheMuscleGym immediately and retire it by the start of summer. This site is coming offline and we will no longer offer it here at LotzaDollars by June 1st, 2014. Please change your links out to our new site ModelMuscles.com. We have exciting new image banners, flash banners, FHGs, content zips and jquery peel ads are all waiting for you right now when you login. Reach out to the LotzaDollars team for the resources you need to bench a new all-time record and make even more money!
So if you are linking to SheMuscleGym, start replacing your links. They may stop working in two weeks (even though I hope that they keep the domain and redirect traffic – but you never know).
Also check out Aziani Iron if you are interested in this niche!
Chicks with arms bigger than their heads may not be for everyone, but there is a market for strong women!