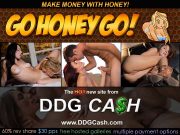 Once again sorry for my absense. This time it was not my server being ill, but actually me having to visit a hospital for a surgery. But I'm back and I'm still alive. 😉
Back to business:
DDG Cash, the affiliate program behind Digital Desire, has just launched a new site: Go Honey Go!
Unlike their long-existing site Digital Desire (ex. Digital Dreamgirls – pornstar glamour with a touch of vintage) their new site ventures into the hardcore niche a little more. While they also have many solo girl glamour shots on their new site you will also find lesbian and straight sex scenes. Their content comes in the same high quality we have learned to expect from their "Digital Desire". Their material is usually quite tasteful and not "over the top". They focus on chicks, though, so this may not be the right page for women.
Check out your DDG Cash account now to fetch your banners and promo material.