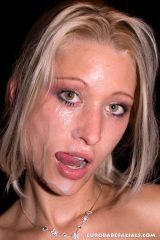 If you have European, Blowjob, Facial and Cumshot traffic then Puffy Cash's new site Eurobabe Facials may be for you.
Featuring only the best in european talent from first timers to well known pornstars, Eurobabe Facials captures that special moment when you unleash that massive load on a pretty girls face.

How will she react? Will she smile? Will she laugh? Or will she look angry?

Its all part of the fun to sit back and admire her sticky face.
The site is fully responsive, so is set up to capture great ratios whatever the traffic source is.
Grab your promo material in your Puffy Cash NATS area.