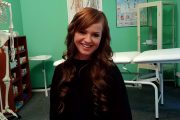 Really Useful Cash's first launch of 2014 has hit the internet and is already causing a buzz.
Following in line with our hugely successful FakeAgent, FakeTaxi and FakeAgentUK we are pleased to announce our latest hit FakeHospital.com! Watch as hidden cameras capture the wild activity of crazy doctors and naughty nurses as they lure their sexy patients into insane and compromising situations! There are cameras hidden in the exam room, in the rest rooms, and even in the doctor's eyeglasses for amazing POV shots! The end result is one of our sexiest hidden camera sites yet!
As always, they have loaded Really Useful Cash with banners, photo and video galleries, and video embeds to help you promote this new hidden camera experience!