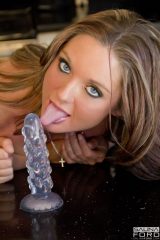 CCBill powered affiliate program Pink Velvet Vault has announced the launch of their newest site: SalinaFord.com!
Salina Ford is a car lover who also loves sex. She masturbates in most photo sets and has lesbian sex. Her body is always amazing and her smile makes any photo light up.

Content is Nude

SalinaFord.com offers 4 different video formats including streaming flash videos and High Definition. Salina does weekly webcam shows on YourDailyCams.com and enjoys talking with members via Twitter plus her blog.
Note: that it's Salina not Selina 🙂
Besides the fact that she's promoted as "car lover" (which might give us a hint that we'll probably see her posing on and in cars a lot which gives her a quite unique selling poing) the site is quite standard as a solo-girl site…