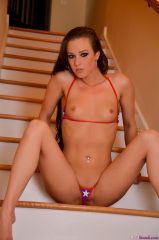 Welcome back in 2014! As expected not a lot happened since my last post (adult webmaster stuff related), but now we are starting into a new year and affiliate programs are waking up from their winter break.
One of the first to launch a new website is CCBill powered Epic Panda Cash: Their latest site addition features sultry looking teen Brandi Olsen.
Brandi Olsen is the wildest girl next-door in the history of neighborhoods! She's a two-time champion poledancer who loves showing off, making people laugh, and making guys cum. Originally discovered in a "Vote Her Clothes Off" casting call for our multi-model site PartyAllStar, this little 95-pound firecracker was too wild for us to let slip away, so we gave her a site of her own. Promote Brandi, and see what it's like when a girl enjoys every minute of being a wild, fully-nude model!
While the site is "just another solo-girl-teen site" I like the sultry look of Brandi when she has put on her dark makeup.
Give her site a try, your visitors might like her as well. You can find banners and hosted galleries at Epic Panda Cash.