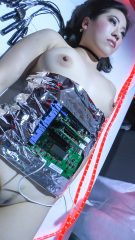 There's always room for another niche and fetish: SpiceCashhas launched a new site called SciFiDreamgirls:
Just when we thought pretty much every adult niche had been now explored, along came the idea for SciFiDreamGirls.com, an explicit FemBot site in episodic video format set in a futuristic world with mad scientist, Dr. Ashley Fires as the architect of exotic fembots that are programmed for everything from sexual servitude to domestic service.

In a collaboration between Wasteland.com and Ashley Fires Rebel Base Studios, this very high tech and unusual site will appeal not only to adult surfers, but Science Fiction and futuristic gaming affianados alike.

FemBots? Robots programmed for sexual servitude? Science fiction as a vehicle for porn? You betcha! And the results are both stunning and totally unique!
So if you are looking for another unique niche site – don't hesitate and get going. You'll find quite a bunch of other interesting niches for fetish and bdsm lovers at SpiceCash.