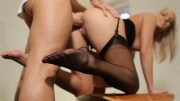 It's not so much "NEWS" anymore, but I initially wanted to wait for an official announcement – that never came. Maybe I missed it, but they still don't mention it on their homepage news feed.
21sextury Cash has launched a new site in their network some time ago: 21footart.com
The site is part of the 21naturals network they launched in march and features high quality foot fetish pictures and videos.
I'm not absolutely certain about the status of their page as there is absolutely no promo material available, yet. Maybe they are still testing.