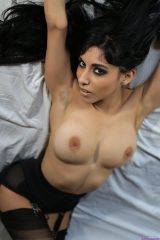 CCBill powered affiliate program Idelsy Dollars has launched a new site for Idelsy Love.
Idelsy Love is a kinky Cuban fetish model with a tight sexy body and beautiful exotic looks. She loves dressing for sex in latex, stockings, lingerie, heels, corsets, and more, the kinkier the better! She also loves getting down and dirty with her gorgeous girlfriends.

There is also a promotion now where people can sign up for only $9.99 a month all through summer!
Her old site Love and Death Project is redirecting to the new domain, so all traffic will still be tracked.
They also launched a new affiliate frontend, but from what I can see I'm not sure if her hosted galleries are tracking your users. To be on the safe side better use CCBill's redirect link to go to those galleries by prepending those links with
http://refer.ccbill.com/cgi-bin/clicks.cgi?CA=935400-0000&PA=[YourID]&HTML=…
If you are not yet promoting Idelsy Love go to Idelsy Dollars and sign up for your affiliate account!