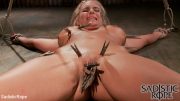 Sadistic Rope has moved over to Kinky Dollars. Now you can promote the site just as easily as you can the rest of the Kink family of sites.
Sadistic Rope brings you intense and brutal bondage and torment.
Our irreverent director, The Pope, commands all the hardcore rope bondage and extreme orgasms, with the girls getting so mind fucked that you can see their souls start to bend.
The first few pieces of promo material I've seen are intense pieces of actually really weird stuff including waterboarding, hard choking and other extreme games. This site may not be for everyone – but if your visitors are into hard stuff – give it a go and visit Kinky Dollars for promo material!