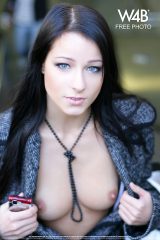 It's starting to look like a pattern here: Another site is joining the MetArtMoney Network. This time it's BCASH4YOU, the affiliate program behind sites like Watch4Beauty.
They had several other solo-girl spinoff sites, for example Ariel's Blog or Dirty Ashlyn. Their links still work, but you won't find any reference to these sites anywhere, so we can't be sure what will happen to these. Only Marketa4You.com seems to be gone. I'm not sure how long, though. I may have missed that before.
Here's the official announcement:
We in Watch4beauty have signed an agreement with the MetArt Network to manage our website and relocate the site into the MetArtMoney affiliate program.

Watch4beauty will be integrated into MetArtMoney and all current BCash4you affiliates who promote Watch4beauty will have their links automatically redirected to assure uninterrupted stats and sales reporting. Once this integration is complete, affiliates will need to go to MetArtMoney to get all new and updated promotional materials. Both BCash4you and MetArtMoney will stay in close contact with affiliates via email to notify them of changes they occur.
So get ready and make sure where your links to W4B are right now. While they say that they will automatically redirect your links you may have to replace them sooner or later.