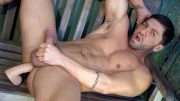 Indie Bucks has launched another new gay pornstar site in their portfolio: Dominic Pacifico
Dominic Pacifico, owner of Pacifico Entertainment is also an international DJ, gay adult model, and more recently has been producing porn. All his productions can be found on his new website, DominicPacifico.com. This unique site showcases exclusive content produced by Dominic Pacifico and features never before seen models mixed with some of the biggest names in the adult market.
DominicPacifico.com is offering members a discounted $14.95/month membership during the launch phase of the site. Banners with the promo offer are available in the IndieBucks Ad Tools area to promote this launching offer.