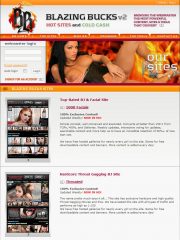 Blazing Bucks has sent out a notification to their affiliates that they will be merging their affiliate backend with Gamma Entertainment's multi-platform affiliate program on May 15th. There they will be joining other programs like FameDollars, Buddy Profits or Open Life.
Mark Blazing:
All of Blazingbucks sites will be re-launched by industry leading company Gamma Entertainment. Please also note that I will continue on with my role associated with Blazingbucks and will continue to provide you with any and all support and sales related tasks.

In order to ensure a smooth transition for you, we have outlined some important changes that you should be aware of:

Your current login will no longer be valid. You must contact Kevin [AT] blazingbucks [DOT] com to get your new login information.
The affiliate program will be substantially different; however we can ensure that all of your stats, payouts, linking codes, and promo materials will still work and track.
All of the sites have received a facelift. We encourage you to check them all out as of May 15th. We will also have some awesome new sites!