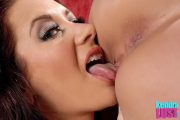 Another new pornstar site was recently launched by Pornstar Platinum. Their new site features busty pornstar Kendra Lust.
Kendra has s kind and humble personality that is among one of the many reasons audiences have a fascination with her. Her smoking hot body does not hurt either. Kendra has a passion for fitness. She keeps herself in top notch shape, and many have taken notice of one body part in particular, her ASS. Kendra has a bum that is constantly featured in her photos and many will argue it is one of the hottest amongst pornstars today.
Kandra is "out of her teens" and will be a good fit for "mature ladies" sites. Her hosted galleries mainly show her in solo and lesbian scenes, but she has done a lot of hardcore, too.
You'll find all banners, hosted galleries and hosted videos in your Pornstar Platinum affiliate login area.
[hana-flv-player video="http://content.pornstarplatinum.com/promo/flv/kendra_lust_sheena_ryder_kendall_karson_2minclip.flv"
width="618″
height="autow"
description="Kendra Lust in Dominated by Kendall and Sheena"
player="5″
autoload="false" autoplay="false"
loop="false" autorewind="true"
clickurl="http://www.kendralust.sexacy.com/"
clicktarget="_blank"
splashimage="http://content.pornstarplatinum.com/promo/flv/kendra_lust_sheena_ryder_kendall_karson_2minclip.jpg"
/]