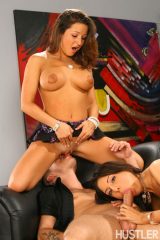 Just in case if you missed it: Hustler Cash has switched to NATS. I just found this one-month-old mail in my SPAM folder:
Wow, has it been a busy time at HustlerCash! We've made the switch to NATS, launched HustlerHD.com and paid out the largest affiliate payout in our history. Thank you so much for supporting us and continuing to promote the number one name in adult.
Well, what they don't mention is, that you need to update your linking codes. I did some quick tests and it doesn't look as if they carry over your old affiliate ID.
Don't wait and update your links now! You can find new linking codes in your Hustler Cash affiliate area.