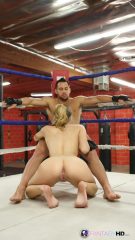 FuckYouCash has launched a new site: FantasyHD offers highest quality pictures and videos and presents inventive sexual scenarios, role-play and adventures, mainly from the one-on-one or two-on-one range.
Anna (FuckYouCash):

You will find the sexiest girls bringing your hottest fantasy to reality.
FantasyHD has made quite an impression during its testing stage and I'm sure you will be impressed too!
Free Hosted Galleries, Hosted Flash Banners and Banners are available in the FuckYouCash webmaster area to help you promote it: