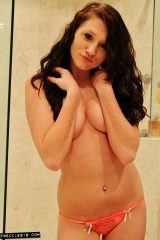 Pink Velvet Vault has launched a new amateur site featuring brunette teen Freckles 18.
Pink Velvet Vault:
Freckles18.com is a completey different site than anything we have done in the past. It is a short, one page tour consisting of personal content all shot by Freckles and her girlfriend and her journey of being a bi-sexual teenager.
Freckles18.com will update 5 times a week: 2 photo sets, 1 video, and 2 journals detailing her sexcapades with her girlfriend, her attraction to men, and other daily randomness.
The site is targeting amateur traffic and may be worth a try if you have traffic in that niche.
Freckles18.com will also be part of the PinkVelvetPass so you may promote it as part of that site as well.