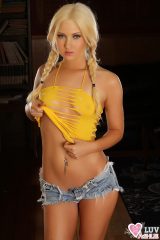 BlissBucks has launched a new site for innocent looking blonde hottie Ashlie Madison.
Ashlie:
I'm Ashlie Madison, 23 years young from California. I've always loved modeling and I'm not exactly what you'd call a shy girl. I love having my picture taken and performing on video so having my own site is just the right fit for me.
Banners, hosted galleries, hosted videos and everything else you may want to promote the new site is available in your BlissBucks affiliate area.
[hana-flv-player video="http://mobile.blissbucks.com/1539.mp4″
width="512″
height="auto"
description="Black Laceness"
player="5″
autoload="false" autoplay="false"
loop="false" autorewind="true"
clickurl="http://www.iluvashlie.sexacy.com/"
clicktarget="_blank"
splashimage="http://videos.blissbucks.com/thumbnails/1539-320-240.jpg"
/]