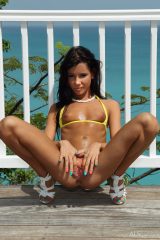 MetArtMoney has sent out newsletters to inform their affiliates that they have successfully integrated ALSScan into their affiliate program. They announced the merger about three weeks ago.
We are happy to announce that you may now begin to send traffic to ALSScan.com through your MetArtMoney account.
Please note that going forward, all new promo materials for ALSCash.com will be accessed through MetArtMoney. You can leave your old links in place, but we encourage you to switch them out when possible.
ALSScan (All Ladies Shaved Scan) started in 1996 and is one of the oldest porn sites on the web. It features cute teens with cleanly shaved pussies.