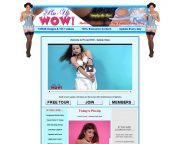 Webmasters promoting Pin-Up Wow may be in for a surprise: When you click on your affiliate link you will now go to a site called TeaseCloud. At least I was surprised first – and kind of angry, because at first it looked as if they decided to close their site and just redirected traffic to somewhere else.
Then I had a deeper look… 😉
TeaseCloud is a replacement site for PinUp Wow and features the same content. They just jumped on the BuzzWord wagon and are now using "Cloud" in their site title – along with nice looking design.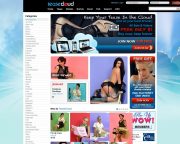 Their affiliate program (yes, they still have that on their site) still uses the same CCBill ID.
Here's their biz talk:
Teasecloud is a major new cloud-based website for your soft adult glamour tease orientated traffic.

Teasecloud will set a new benchmark for cloud-based adult entertainment where members can Pay for what they want, keep their hard drives free, and access it anytime via any connected device.
Signing up to their new site is free, so that may lead to higher retention and – hopefully – more money.
Check this site out if you are promoting glamour/softcore. They may heve some starters' problems (e.g. no linking codes on their affiliate site, so you have to grab yours from a banner code), but it's worth a look.