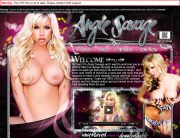 Three of the sites in Aziani Gold Network are currently returning an error message along with their websites:
Warning: This PHP file is out of date. Please contact CMS support.
"Member" and "Join" links on the site are working, but other links return a "Tour Plugin Not Available" Message, so you may loose some sales with that happening.
The sites affected are Angela Savage, Lexxi Tyler and Tyler Faith.
I assume it's just a temporary problem and will be fixed.