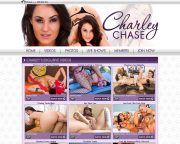 There seems to be a permanent problem with Puba Cash's pornstar site/domain CharleyChase.com
While the link to the site is still working and pointing to a page featuring Charley Chase it is not going to CharleyChase.com anymore as it used to. Actually that domain now holds a domain parking page, and for a short period of time the affiliate link sent users to that page (which they fixed).
[Update]
I got word from Puba Cash that they are working on getting the domain back up.