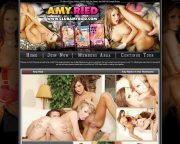 I just noticet that several sites in the Pornstar Dollars network are not behaving the way I would expect them to, so I had a closer look:
Amy Ried VIP, Club Jasmin St.Claire and Team Tushy have been shut down and the sites have been removed from NATS, so you won't find new linking codes in your affiliate member area.
Melissa Lauren Fucked on the other hand will still appear in your site list, but right at this moment the site will not load.
And then there are Anal Queen, Dr.Fuck, Dr.Pussy, Grand Theft Anal, Hardcore Pussy, I love Cunt and Wet Hot Pussy. These sites are all still listed in NATS, but when you click those links they will all show a page called Pornstars Raw which is a tube site containing videos and links to sites in other affiliate networks – so all your traffic is lost here.
That's not how you play nice!
Let's just quote their homepage…
We treat our customers and our affiliates alike, no tricks or scams? honest high quality content for clients and honest high quality tools for webmasters!
Oh yeah, and do I need to mention that I didn't receive any email notifications?
(BTW: Also note that they have deleted a bunch of their hosted galleries over the last few months)