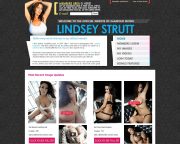 MNS Cash remains being as unreliable as they proved to be all the time: Once again some of their sites just disappeared without giving a notice to their affiliates.
This time the sites gone are Lindsey Strutt (returns the well known "girl with a backpack" domain parking page) and Sexy Sexy Cams (redirecting to a Japanese cam site).
Also noteworthy: Their site "Web Honeyz" redirects to "This is Glamour". I can't say if your referral code is also forwarded.