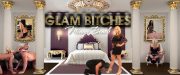 Fetish Wealth has just added a new femdom site to their portfolio: Glam Bitches
We are proud to announce the launch of GlamBitches.com; adding to our 40+ sites within FetishNetwork.com. GlamBitches.com features beautiful women biting, slapping, smothering, and generally fucking your pathetic ass up!
Their new site features a lot of foot worship, trampling and other femdom/lezdom related material. As usual with Fetish Wealth my complaint goes to the low quality promo material (I mainly use picture galleries) but you may be better off using videos.
[hana-flv-player video="http://platinumfetish.com/content/p0061_s0078/p0061_s0078_0080_footslave_competition_promo/fhg_video1/trailerfhg.flv"
width="618″
height="autow"
description="Beautiful femdom mistress has new slaves"
player="5″
autoload="true" autoplay="false"
loop="false" autorewind="true"
clickurl="http://www.glambitches.sexacy.com/"
clicktarget="_blank"
splashimage="http://platinumfetish.com/content/p0061_s0078/p0061_s0078_0080_footslave_competition_promo/fhg_video1/trailerfhg.jpg"
/]