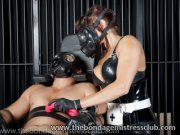 There seems to be a new femdom affiliate program in town:
The Bondage Mistress Club affiliate program has recently been launched through CCBILL. According to the copyright message on the site they have been around for some time (actually the copyright has not been updated since 2010), but they just added their webmaster program:
50% of each signup as a result of referrals. 50% of each rebill, plus, you earn 10% of the sales of other affiliates that you refer.
Just go to The Bondage Mistress Club and scroll down to the bottom of their site. There's a Webmaster link there.
I can't say much more about them, yet.
via MediumPimpin BBS