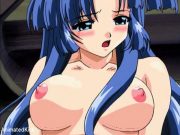 Kinky Dollars has launched a new site in their affiliate network: Animated Kink features manga, anime and 3D animated fetish porn movies.
Lovers of bondage and lovers of Hentai will be excited to see the launch of our new site AnimatedKink.com! We are now taking the Kink brand into the hot world of Anime! With tons of content and a steady stream of updates it is sure to be an exciting and high converting new site! All of the tools you need are at your disposal inside Kinky Dollars, so get in there and start promoting it today!
Well, actually I have to admit that I'm not yet excited. While I usually love anime porn and while I usually say that Kink.com sites are amongst the sites that sell best I'm not convinced that this holds true to Animated Kink. So far all their promo material is blurry and of low quality – both in their FHGs and on their site. Some pictures look as if they were meant for 4:3 screens but were stretched to 16:9.
Some of their promo material dates back to a year ago, so they seem to have tested the site for quite some time. So far they seem to have a little more than 20 scenes.
Let's see if they can lift their new site to the standard of their established sites in the future. I will not start to push that site hard, but it's up to you to decide: Visit Kinky Dollars to fetch your promo material.