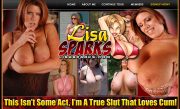 CurvyBucks, the porn affiliate program behind Lisa Sparks, is now running on a NATS backend. Looks as if they didn't like MPA3.
Good news!! If you have not stopped by CurvyBucks in awhile, we are now using NATS 4 for our back-end solution so you're guaranteed top of the line statistics.

Don't worry your old CCBill links still work and you are still being credited with every sale; there is no need to change any of your links unless you want to. We now offer several programs to choose from, wether it is our CCBill Paid Program, 65% Rev-Share, or our NEW $25 oer-signup. If you have questions, comments, or need anything just let us know.

If you have not logged into CurvyBucks in awhile, please update your payment info as well as your affiliate details.