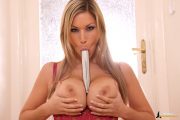 Last week cashlantis notified that there was a change to come:
We have never asked you to change links in the past but if you promote the site www.carolgoldnerova.com you will need to on Monday.
Very few of our affiliates pushed Carol as she is in the babe niche and the rest of our sites focus on amateur teens.
We've decided to allow Carol to pursue her own site on her own stand alone account.
The change will occur at 5pm GMT on Monday. After that you will need to visit www.carolgoldnerova.com for a new dedicated ccbill link.
The site currently has a small notification text "PLEASE apologize a bit of technical problems – I hope my tech guys will sorte it out TODAY" but otherwise it seems to be online. It also has a Webmaster Signup link where you can sign up for a CCBill account. I got an confirmation that I signed up to the "ForbiddenGold" affiliate program, but as far as I can see there is no obvious connection with the ForbiddenGold at ForbiddenGold.com (they are a NATS program, not CCBill). I'll keep my eyes open.
As far as I can see there are no promo tools, yet. There are no banners and while her old hosted galleries at Cashlantis are still online they will not track sales as the CCBill code in those pages is not fixed for the new program.
From all I can tell they didn't have much time to prepare things, but we'll see what the future brings…