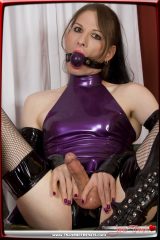 Shemale fetish model Jamie French has just announced that (s)he will be moving her website from her existing CCBill site JamiesFetish.com to a new site.
Her new site is TSJamieFrench.com and will be available in the Groobybucks affiliate program. So far you can't fetch your linking code, though.
New promo content, FHGs, banners, etc. are being uploaded to the GroobyBucks affiliate program and will be made available very soon
Warning: The old site is not just "not updated" anymore – it's gone and redirecting to the new site, so all you old links will send traffic to her new site and you won't get paid.
If you want to continue promoting Jamie and you aren't a member of The GroobyBucks affiliate program go join up now and replace your linking codes as soon as possible.