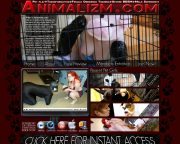 Spizcash has quietly shut down their petplay site Animalizm.com
When you visit their site right now all you'll get is this message:
We have closed up shop

It's been fun!
No links, no forwards, no nothing. Sometimes I just don't understand people. Having a dead-end page with incoming links is just like throwing away money…
BTW: If you are linking to their site 'Hentai Bound' please be aware that affiliate links to that site are currently broken.