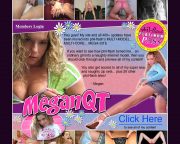 Phil Flash Cash's solo-girl site MeganQT has officially been merged into Phil-Flash.com but there still was a landing page for her on her own domain. Now all pages on that domain forward visitors to the main multigirl site.
That's not so bad – so far.
If – however – you use her hosted galleries you need to start working:
Her FHGs were also hosted on meganqt.com, but you didn't have to go through the usual CCBill redirector. Here's one of the expired FHG links:
http://meganqt.com/hosted/gal/amateur_3/776059
If you still send visitors to this URL they are forwarded to phil-flash homepage – but your referral ID is lost on the way there – so: get rid of them!
[Update]
Her site is back, so all hosted galleries are now working again.