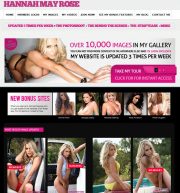 MNS Cash has once again closed one of their sites without notifying their affiliates. Hannah May Rose has been shut down and is just showing a "We're sorry" message.
So if you're still pushing MNS Cash sites – remove all links and check out other news about their affiliate program, because they have a tendency of closing their sites with no prior warning (actually not even a warning AFTER it has happened) which at least I find very annoying…
[Update]
I contacted them and only a few minutes later they sent out this mail:
Unfortunately we have had to close the doors on our website www.hannahmayrose.com due to personal reasons from Hannah.

If you are promoting www.hannahmayrose.com you will need to pull all of your galleries from your site(s).
We will be moving the content into our multi-girl website and i will be making the galleries to be put onto mnscash.com asap so you still will be able to promote hannah may rose but all converting traffic will be tracked on thisisglamour.com and not hannahmayrose.com.

Again we apologise for this issue and if you have any queries please let me know.
So here we go: They CAN send out mails. They just need someone to give them a nudge!