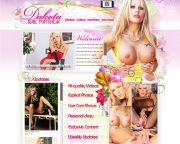 Two pornstar sites at Aziani Gold are now redirecting to Aziani's main flagship site Aziani.com.
Even though you can still fetch the old links to "Dakota Rae Patrick" and "Club Heather Summers" both sites seem to be gone and are now redirecting to model profile pages.
So far all promo material (including hosted galleries) is still available and working.
[Update]
I was wrong about the some of the promo material – even though I'm not sure if there is a connection. I don't check hosted galleries as often as I check websites, so I can't say when exactly these FHGs stopped working.
http://www.aziani.com/pornstars/porn_tube-videos-samanthaswallows5_flv/index.php?nats=MTEwODE6Mzo2OA
Just in case you try to promote videos galleries that contain the part marked in red: These don't work.