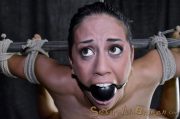 Intersec Studios and KinksterCash launched SexuallyBroken.com last friday. Their new site brings the hottest names in vanilla porn right now, being bound and dominated by rigger Matt Williams.
Williams:
What separates Sexually Broken from other sites of it genre is it's unique content. The girls are overloaded sexually, forced to orgasms over and over, with out the brutal SM actives of other sites. No crying, no screaming in pain. Forced deep throating and brutal face facings all while bound. The girls get fucked and fucked well. It is a sexaul overload for the girls, never the fake orgasms you see at other site, but REAL brutal orgasms. The girls are sexually wrecked, and sexually broken with pleasure so intense it alters their minds.
Matt began his professional career with Insex in 1999. In 2003 he left to direct Kinky Dollars Flagship bondage site Hogtied. In 2008 he became the creative Director for Kink and its 13 websites. While at Kink, Matt created the sites Ultimate Surrender and TS Seductions, and was instrumental in developing Public Disgrace. Now Matt returns to the company that first fostered his creativity, style and atheistic, to create Sexually Broken.
Banners and link codes are available at KinksterCash.
You can find a bunch of FHGs and Hosted Flash Embeds/Videos in your affiliate member area.