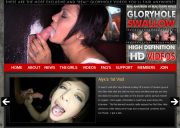 Chica4Cash is a small CCBill affiliate program, but still they were able to draw attention from big 'Hustler': They were forced to rename their site 'Gloryhole Hustlers' to 'Gloryhole Swallow'.
This is what I found in my email:
I just wanted to let you know that Larry Flynt had an issue with me using the word "Hustlers" so I had to change the site name to "Gloryhole Swallow". Even though it was a pain in the ass to switch everything over, the new name is improving sales.

After being contacted by Hustler's legal team, I started redirecting GloryholeHustlers.com to GloryholeSwallow.com because they went through the UDRP to obtain the domain. Up until now it hasn't been an issue and I thought they forgot about it but the lawyer contacted me today letting me know that they want me to transfer the domain in a few days. I'm not sure what they plan on doing with the domain but I'm sure it will be redirected to one of their sites. Please change your links as soon as possible. The only change you need to make to your links is replace the word "hustlers" with "swallow".

Just so you know, our Account Grouping has always been enabled so you will get credit for sales from traffic to both ChicasPlace.com and GloryholeSwallow.com I never expected them to have an issue with this and I apologize for the inconvenience.
Well, actually I'm surprised that they are surprised. Trademarks are not such a new invention… But hey, actually I wasn't aware that they had a second site besides Chica's Place before I got this mail 🙂