I was afraid that would happen and – of course – it happened. Affiliate program owners were quite busy while I was on holiday. Let's start with (mainly) gay site affiliate program CashKaboom: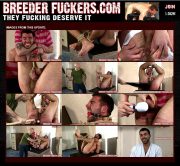 On July 2nd they closed their sites FirstAuditions.com and StraightHell.net to new members. The sites will remain online and will be updated weekly for current members, so if you have active members you will continue to receive your share for all rebills which continue on these sites.
The sites will be replaced by the sites TheCastingRoom.net for FirstAuditions and Breederfuckers.com for StraightHell. The new sites will include all content from the old sites and be updated weekly – once a week for BreederFuckers and twice a week for TheCastingRoom.
You can login to CashKaboom to get your new affiliate links. All links to the old sites should be removed or replaced with these new ones.
CashKaboom:
We've had to make this decision at short notice, but unfortunately it's necessary and I apologize for any difficulty this might cause. I appreciate this will create difficulties for you and I want to do whatever I can to help you continue to promote our sites.