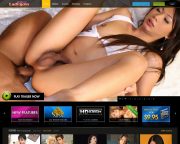 I noticed that 21sextury Cash site Perfect Ladyboys started returning the 21sextreme homepage. It looked just the same when they 21sextury Cash: Dirty Orientals is gone [Updated]" href="http://www.awmcash.net/2012/06/21sextury-cash-dirty-orientals/">closed Dirty Orientals a few weeks ago, so I asked them for a confirmation for my observation.
Here's what I got:
We've closed the following sites:

dirtyorientals.com
babygotballs.com
perfectladyboys.com
ladyboyplays.com
lezladyboys.com
lustyladyboys.com
So it looks as if they are getting rid of sites that don't match their main competence: Sexy east European babes in sexy scenes.
Note that you can still get links to these sites in your affiliate backend, but you don't get shemale sites when you go there. At least you still get credited for sales, but it will probably not convert as good as it did before, so you'll probably better start replacing your links.
(BTW: Tranny from Brazil, Tranny Smuts, Ladyboys and Trannies and Ladyboy Universe still work.)