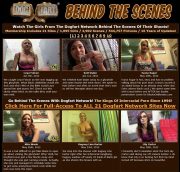 DogFart has opened a new tour to it's affiliates: Dogfart Behind The Scenes
Technically speaking it's a free site/tube site containing – as the name suggests – behind the scenes material of the girls they film – changing, showering or just chatting along. It contains some nudity, but just some small thumbnail teaser pictures of the hardcore that's happening if you join their page.
I'm not sure if this site actually helps you sell the site. Maybe people will come here, watch some videos and then just leave – and then, a week later they come back and maybe join then. So in the end it all comes down to the question how long cookies will stick – and according to DogFart support that's (just) two days.
Pushing the site still may be worth a try – mainly because the site gives you a lot to blog about. That might be helpful to allow you write unique content.