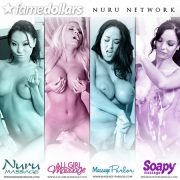 Gamma Entertainment has acquired niche site NuruMassage.com and its network of sites, including AllGirlMassage.com, SoapyMassage.com, and Massage-Parlor.com.
All four sites will be managed under FameDollars and will be relaunched this June.
[Update]
They sent out a newsletter stating that old linking codes will continue to work, but that they will start tracking sales on FameDollars now. Here's the exact wording:
Please be advised that, while your current linking codes will continue to work, all stats will now be available exclusively on FameDollars.com. No worries about your CCBill account; it will remain active and you will receive the payment for sales and rebills made before the switch of the targeted sites in the following pay-out period.
They created a new login on FameDollars for all existing users. They – however – at least in my case – game me a password but no username. Actually they sent me a password that I used on some sites some time ago – so someone is saving plaintext passwords. Shame on you! I'll have to get in touch with them 😉