Fantasy Girl Revenue gives us a special event going on this coming Friday, January 7th at 10pm est: A live all girl orgy.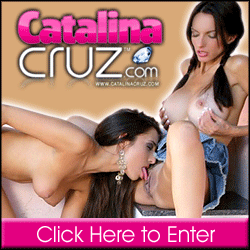 Here is the press release:
Catalina Cruz Hosting Live Orgy

Phoenix, AZ – Internet star Catalina Cruz will be hosting and performing in a live special event featuring four girls in an all girl orgy on January 7th at 10pm est from Las Vegas during the days of the AEE expo. This is just one of many special events Catalina has hosted over the past two years besides her regular live webcam events. Members of CatalinaCruz.com as well as members of all the Fantasy Girl network sites will get access to the live two hour event.

"The members are loving these special events over the years. The live interaction is my favorite part of all my sites. Everything I do now is always live. You never know what special pornstar & internet stars I will have on. The fans love the live sex, part of it I know is the reality and its not edited so they really get to know our personalities besides the real sex." says Catalina Cruz
Catalina Cruz, Sienna West, Barbi Sinclair & Kaci Starr will be the ladies that will be live that evening together.

Catalina Cruz will be signing at the AVN booth during the AEE expo Jan. 7th from 4-6pm and Jan. 8th from 4-5pm.
Time to get your banners up!